Aluminium Sliding Doors Hardware & Handles
Aluminium Door Handles | Specialist Hardware Designed by Professionals | For Professionals
Mila Pro-Linea
The Mila Pro-Linea range of lever/lever designer handles help our New Wave doors make a bold style statement. Coming in a wide range of colour finishes, they are the perfect external finishing choice. The choice of colours are as follows:

Designed specifically for the ergonomic comfort of the user, our specialist handles ensure the easiest operation for the end-user. The ergonomic design, as well as the modern, sleek and soft lines, are designed to perfectly match our aluminium New Wave Doors.
The internal spring system ensures that the handle will always return to 90° after the handle has been in use which ensures that any handle sagging as avoided and the handle is protected whilst in use.
To find out further information in relation to the handles that are available for our New Wave Doors or want to find out more about the handles that are available with our New Wave Doors, get in touch with a member of our team using an online contact form on our website or telephone now.
---
Blu Series Stainless Steel
The BLU Series Stainless Steel handle is an ultra high quality alternative to our standard range of handles. Like the standard range, this handle has been ergonomically designed to be very easy to use and beautifully weighted. The BLU series handle is finished in stunning stainless steel, this brings an exceptional feel of quality that perfectly harmonises with the elegant design and unique operation of the New Wave Door.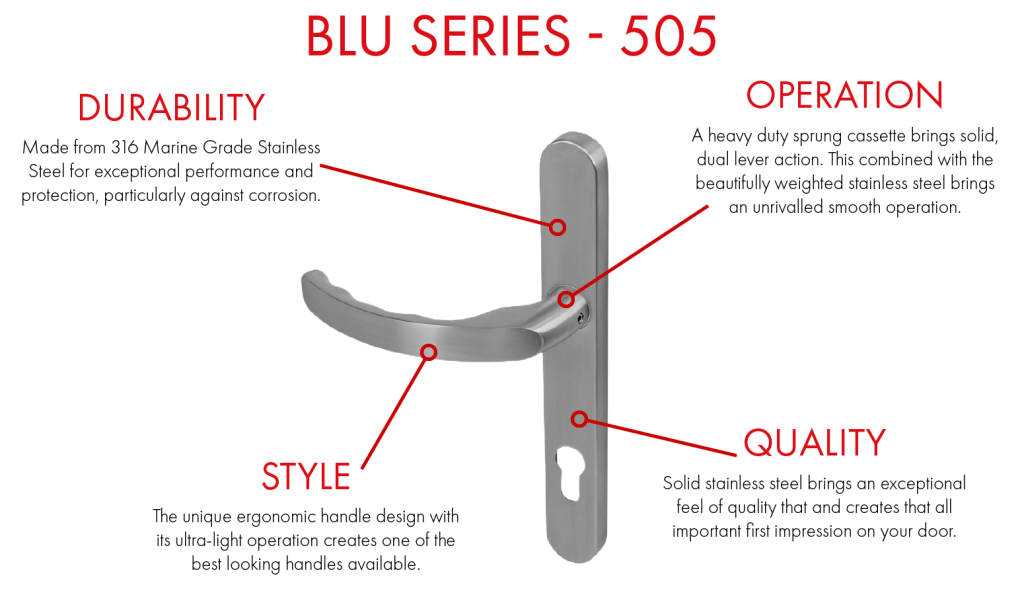 Make a Fantastic Impression
As our Aluminium New Wave doors are sleek and elegant in design, our Mila Door Handles match your new doors to the letter. With a variety of different colours available – our selection is perfectly suited to make a fantastic impression when guests or visitors see your brand new Aluminium New Wave Doors.
The modern, ergonomic look and feel of your door handle are vastly superior to its Aluminium bi-folding door handle counterparts. The fact that you can choose from an intricate range of colours adds that sense of personalisation to your door which is unachievable with other door systems.
New Wave – Doors that Do What Bifolds Don't
Complete Freedom of Expression
It can become frustrating when you do not have the sizes or specifications available when installing a new door. This is especially the case for traditional doors such as patio doors, bi-folding doors and aluminium bi-folding doors as these doors may not have the parts or sizes available to install the door to a satisfactory level.
When you order an Aluminium New Wave Door, you will have the complete freedom to choose many parts such as the door handles, the parts from sizes as well as the most important feature – the colour. This makes our Aluminium New Wave Doors truly unique in the ways in which you can customise the door and ensure that it meets every requirement; our range of coloured sliding doors in Bristol are among the best available.
Guarantees & Accreditation
Mechanical Guarantee 10 years

Surface Finish Guarantee (Standard Environment) 10 years (2 years for PVD finishes)

Surface Finish Guarantee (Harsh/Marine/Hazardous Environment) Not Suitable (see the stainless range)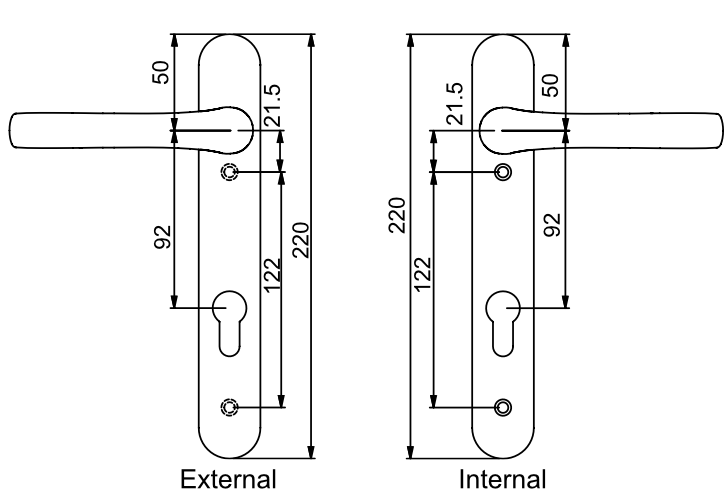 – Doors that Do What Bifolds Don't!