Sliding doors, which are generally known as patio doors, and folding doors are both types of wide-span doors. Sliding doors slide open horizontally and do not impact floor space. Folding doors also slide open but fold back to one side to create a larger opening. Both options have their pros and cons and a range of different features. If you're planning to replace your patio door or folding door but you're unsure which option is best for you, there is an alternative solution of bifold doors uk which takes the best parts of both doors, none of the drawbacks and adds its own unique features!
Bifold doors vs Sliding doors vs New Wave Doors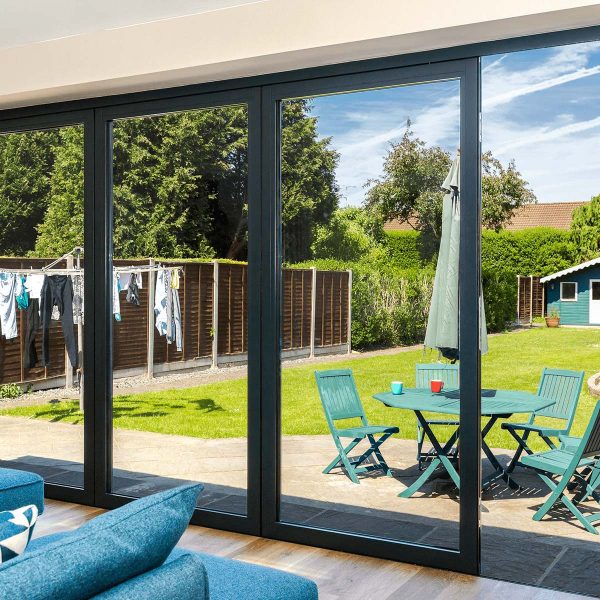 New Wave Doors are the latest innovation in patio door technology. They are more versatile than both sliding and bifold doors with the added option to open each door panel independently. Like bifold doors they can be neatly stacked to one side when fully opened but unlike bifold doors, all of the weight during operation is displaced to the bottom track and because the panels are not connected there is no stress on the operating system or the top track. In a bifold door it is this poor design that leads to many of the problems associated with a folding door, especially poor reliability.
The unique way that the New Wave Door or slide and fold doors slides and then swings maximises the amount of useable living space both inside and out. The bifold door requires clear living space both inside and out in order to operate and where as a patio door doesn't always require this space you are unable to open the whole door.
Both sliding doors and bifold doors can be extremely heavy and very cumbersome to operate, additionally with bifold doors all the folding panels are permanently connected to each other. This limits flexibility and makes door opening much more of an effort compared to the effortless operation of a New Wave Door. When fully closed, both sliding doors and bifold doors have visible hinges and weak points which make an obvious target for intruders and can be very draughty. The New Wave Doors patented interlock system creates a secure wall against both the weather and any attempts at forced entry with no unsightly hinges and handles on view. Our patented New Wave Operating System is so secure that with over 10,000 doors installed using this system, we are not aware of a single security breach. We are confident that no other door system can claim this.
New Wave Slide and Turn Doors for the best in patio door technology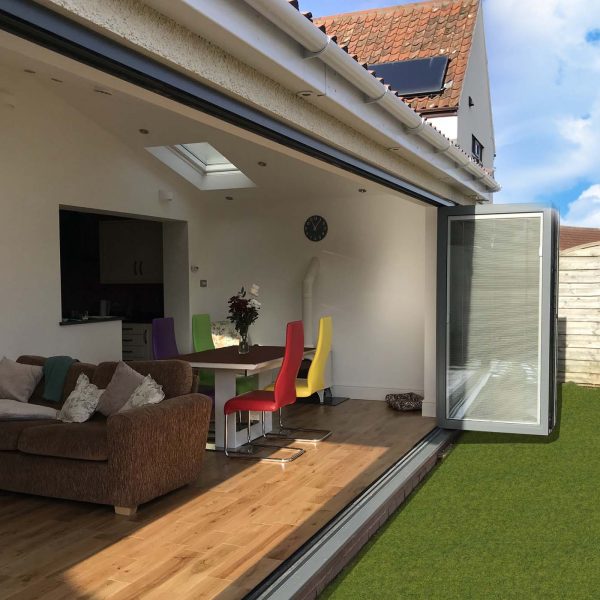 When compared to bifold doors and sliding doors, New Wave Doors are truly a superior choice. To give you a clear concise idea of how more advanced New Wave Doors really are, here are some of their features compared to bifolds and sliding doors.
| | | | |
| --- | --- | --- | --- |
| Feature | Bifolding Door  | Conventional Sliding Patio Door | |
| Virtually Unlimited Opening Combinations | | | |
| Open as much or as little of the door as you wish | | | |
| Full Ventilation Position | | | |
| Always has a main traffic door | | | |
| Open your Door completely | | | |
| Fully Interlocking and rebated panels for weathering and security | | | |
| Panels free to move individually | | | |
| Panels free from stress of connecting hinges | | | |
| No visible handles or hinges on sliding panels | | | |
| Bottom Track supporting ALL the weight of sliding panels | | | |
| No internal or external space wasted by the operation of the door | | | |
| Easy and simple operation and can be used by almost anyone | | | |
| Stunning contemporary looks with clean sight lines. | | | |
New Wave Doors are an excellent choice for any project, weather you are replacing any existing patio door or if you're building your dream home from the ground up. If you'd like to find out more about New Wave Doors e-mail sales@newwavestore.co.uk or click here to design and price your very own New Wave Door.