Choosing the best patio door system for your home can be tricky. There are lots of options out there including traditional lift and slide doors, French doors, and bifold doors. When you're looking for a door system with all the advantages of a bi-folding door but none of the drawbacks our New Wave Doors are the ultimate choice for you.
What makes New Wave Doors so great?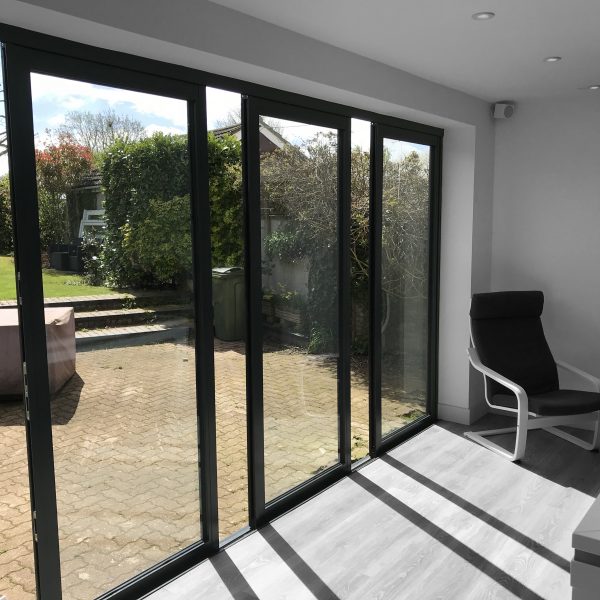 At New Wave Doors, we get many customers asking what makes our aluminium and uPVC slide and turn doors different from other products on the market. The simple answer is our patented New Wave Operating System, that allows each door panel in a New Wave Door to operate independently of the other panels. This makes New Wave Doors the most versatile door system available today.
Each door panel in a New Wave Door interlocks with adjacent panels using a full height, tongue and groove interlock. Once the master door or main traffic door is opened, any single door leaf can slide along the bottom track and then swing open once it reaches the master door. This is part of the magic of the New Wave Operating System and can simply not be achieved with any bi-folding doors because of their outdated, complex, cumbersome and unreliable mechanisms. Because New Wave Doors are so innovative, they are sometimes referred to in the glazing industry by several different names. These names include:
Slide and Turn Doors
Slide and Pivot Doors
Swing and Slide Doors
Slide and Swing Doors
Slide and Stack Doors
All these terms describe the functionality of New Wave Doors. It is this desire to create a user-friendly door system which has driven the development of our Slide and Swing Doors. Visit our user-friendly door designer to design your perfect New Wave Door and see just how affordable they can be. We also have a show site in Bristol where you can see this revolutionary design up close.
What exactly is a Slide and Swing Door?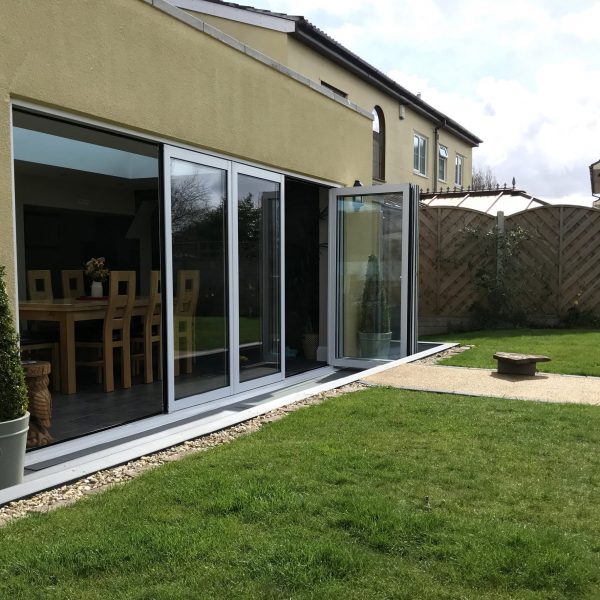 New Wave Slide and Swing doors are the new generation of multi-panel doors. Slide and Swing doors take the best features of bifold doors and sliding doors and combine them to create a truly original sliding folding door system. They are the perfect choice for homeowners who want to maximise their living space and open up their home both inside and outside.
When a New Wave Slide and Swing Door is opened, the door panels have zero impact on either interior or exterior living space. Unlike bifold doors uk, with our Slide and Swing Doors any panel can be opened separately from the others for improved ventilation or easy access. Swing and Slide Doors can also operate as a secure partition and when closed, the door panels fully interlock to create a solid wall. Our patented New Wave Operating System is so secure that with over 10,000 doors installed using this system, we are not aware of a single security breach. We are confident that no other door system can claim this.
How do Slide and Swing Doors work?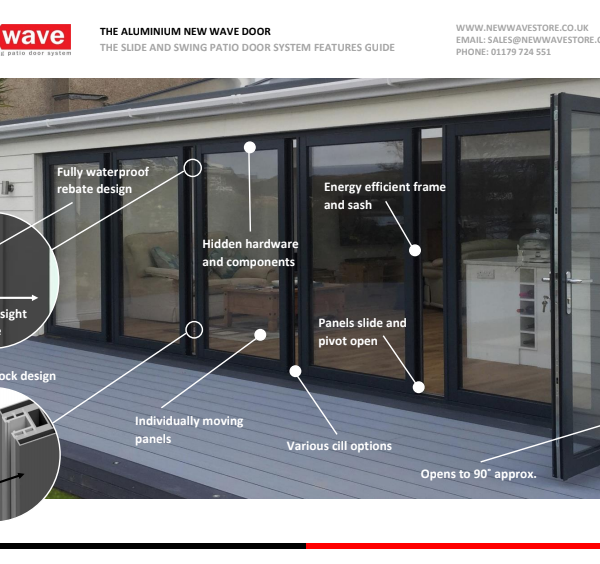 New Wave Doors are designed to provide all the benefits of bifold doors while eliminating all the faults and problems associated with bifolds. As you can see from our strapline, New Wave Doors are 'Doors That Do What Bi-Folds Don't.' Essentially, this means that New Wave Doors offer homeowners the same wide opening capacity as bifold doors but are far more versatile, reliable, secure, and aesthetically attractive.
Unlike bifold doors, New Wave Doors function on a simple operating system. They feature no complex gearing, hinges, or top track support. Instead, they slide smoothly on just the bottom track like a traditional patio door. Traditional sliding doors, however, are usually all permanently connected and can only be opened together. With New Wave Doors, each door panel can operate completely independently to alleviate the heavy stress to which traditional door systems are prone and that cause premature deterioration. Click here and watch our 30 second video now and you will see what we mean.
When designing the New Wave Door, we knew that it's unique operation, that allowed independent panel opening, also needed to be the ultimate in security and weatherproofing. That is why our patented New Wave Technology includes our unique interlocking system. All New Wave Door panels completely interlock from top to bottom. This effectively creates a solid wall which is extremely weather resistant and the strongest defence against any break-in attempts.
uPVC and Aluminium Slide and Swing Doors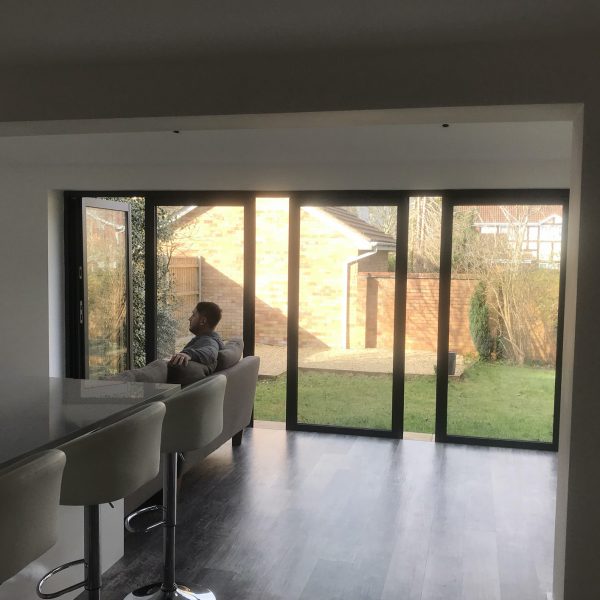 To provide homeowners with the best choice for their new door system, New Wave Doors are available in both uPVC and aluminium. Both uPVC and aluminium Slide and Swing Doors work on exactly the same principles and provide the same outstanding functionality and stylish contemporary aesthetics.
Our uPVC New Wave Doors are made from superior quality VEKA profiles. They are thermally efficient and low maintenance. VEKA's market-leading environmental policy makes this an excellent choice in terms of sustainability.
Our aluminium New Wave Doors feature an integrated polyamide thermal-break system to help reduce heat loss and boost thermal performance. They can be customised in your choice of any RAL colour which is applied using a marine grade, 62 micron powder coating that is durable, low maintenance, and visually impressive. Our New Wave Aluminium sections are produced for us under license by Cortizo, the world's premier manufacturer of high-quality aluminium profiles. We work with Cortizo because of their outstanding quality and their commitment to the environment. Their factory producing New Wave profiles is almost entirely run on hydro-electric power produced by Cortizo's own plant. This is the type of commitment that impresses us and helps us in our drive to reduce carbon emissions across the New Wave Brand.
Embrace the New Wave revolution
If you're planning any home improvements and you're looking for the latest in patio door technology, New Wave Doors are the perfect choice for you. The New Wave Slide and Swing patio doors are the industry innovation which looks set to become the favourite amongst UK homeowners looking for a high-end door system that delivers outstanding performance, flexibility and reliability at an affordable cost.
To help you understand why you should choose a New Wave Door over conventional patio doors or the outdated bi-folding door, you can design your own door here with our interactive door designer or e-mail sales@newwavestore.co.uk and a member of our friendly and knowledgeable team will be on hand to help. Alternatively, just fill in your details using our online contact form and we'll get back to you as quickly as possible.