In this article, we look into the different types of bifold doors you can get in Bristol and other areas of the South West. We look at why a New Wave Door offers much more than your standard bifold door in Bristol. We will guide you through all the additional features and benefits of a New Wave bifold door over and above the standard type of bifold available today. New wave doors have proven to be the market-leading product in the Bristol external door range for over 9 years, the door that does what bifold doors don't.
The innovation around the New Wave bifold product is based around a totally unique and patented operating system, designed, manufactured and fitted by our team of Bristol bifold door specialists. The team focussed on the failures of the traditional bifold door and set out to improve some of these elements and also remove the ineffectiveness of some of their characteristics. 
Some Of The Key Areas Where A New Wave Bifold Door Needed To Be Better Than The Old Ineffective Bifold Doors Were The Following: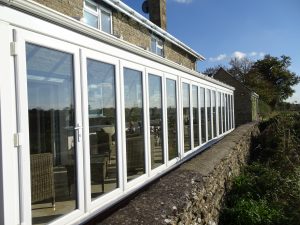 Usage – It seems silly to say but traditional bifold doors are very limited in the opening combinations you can have which really stops you from using the doors exactly how you would like them. By having virtually unlimited door opening combinations a New Wave bifold door uk will let you experience the full versatility of all your door panels working for you and your family. 
Space – With a New Wave slide and fold doors you can open as much of each door as you wish and also enjoy the sliding aspect of the main opening door which means that you do not lose any space due to internal or external opening of your main bifold door. With a New Wave bifold door, your panels are free to move individually too.
Security – Older style bifold doors need to pivot and slide and cannot fully interlock into place which leaves them vulnerable to attack from burglars or home invaders. New Wave bifold doors fully interlock from top to bottom and form an impenetrable wall of defence against any unwanted visitors. They also form a much stronger barrier against the weather and any elements that come along with that. In all the years that a New Wave bifold door has been in place, we are unaware of any breach of security and that cannot be said of other styles of a bifold door in Bristol.
Insulation and weatherproofing – By using aluminium New Wave bifold doors and a thermal -break system to prevent the cold from outside getting in, New Wave sliding doors in Bristol reduce your heat loss and can eliminate condensation. Our bifold doors are fitted only with triple glazed units and as some of the other doors on the market are still using the old uPVC core they cool and heat at different levels causing uneven expansion. This is not an issue with a New Wave sliding door system in Bristol. 
Looks – Normally when you get something that is so technically advanced to its competitive products on the market you have to lose something, take a Tesla 3 for example: stunning equipment and technology but looks like a 1990s sales reps base model car. The joys of a New Wave door are that not only does it smash all the competitors to pieces with its functionality, safety, performance and security but it looks fantastic too. With aesthetically pleasing unbroken sightlines the New Wave bifold door is not only beautiful to look at but with hidden hinges and handles on the panels it looks like a space-age bifold door ready to wow your friends and family. With New Wave bifold doors never encroaching either on your space, inside and out, they also offer much better space-saving efficiency over traditional, normal, boring, un-secure, clunky and impractical bifold doors.
The team at New Wave Doors put together the following statement on their products and I think it shows how well they have been received in the industry and by customers alike.
"The result was the innovation of a whole new operating system which in its current form delivers more than the team could have ever expected. This patented operating system blended with ground-breaking section design has now led to a whole family of New Wave Doors in various styles and formats to suit all aesthetic and technical requirements."
All in all, when all is said and done, when the fat lady sings and when it's all nailed on the New Wave Door system is head and shoulders above the older, outdated brother that is a traditional bifold door. In all areas, this new technology and design smashes the current offering from other manufacturers, suppliers and installers, there really is no downside to having a New Wave bifold door system fitted in your home.
A New Wave Door is so easy to use and operate too. It floats along on an innovative wheel on track system whilst keeping the style of a sash style window. It offers total hassle-free operation and does not require any regular maintenance at all. In fact, we don't offer repairs as we've never had to carry one out.
A Huge Range of Customisation and Colours Available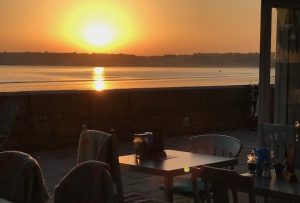 A New Wave bifold door comes in three colours, white, brown or grey. Only kidding, that's the old style bifold door option right there. With the New Wave bifold system, you can choose ANY colour you like from the RAL chart. Hundreds of different colours and shades to suit exactly where you live; we install coloured sliding doors in Bristol that can suit any home. To have the freedom of designing every part of your home without having to fit in with either white, brown or grey is a dream come true, a New Wave Door lets you do just that.
Believe it or not, the technology is now available to have your New WaveDoor system in Bristol in either Aluminium or uPVC whilst losing none of the benefits stated above over the older bifold systems on the market today. The New Wave team explain it like this,
Our uPVC slide and swing doors have sashes that work independently from one another – offering greater flexibility when you need it most. Using Magnaline Hardware, permanent magnetic attraction is used to allow your door to swing open – offering superior and complete flexibility.
So, in summary, I'm really struggling to find a fault with or find a reason not to get a New Wave bifold door system over and above a traditional bifold setup. They a more pleasing to look at with the hidden furniture, you can get them in virtually any colour to suit your home, they are much safer and better at protecting your home from, not only, intruders but also the weather elements and they offer much better functionality than the traditional older style bifold door. You can even get them in aluminium or uPVC.
We hope that you have enjoyed the review on the New Wave Doors in Bristol as opposed to the older bi-folding doors. Thanks very much for reading.