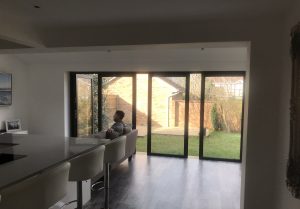 In this article, we will be looking at how to purchase a New Wave Door which sounds quite easy as all you have to do is visit the website of New Wave Doors in Bristol and place your order. However, why should you do that? Why should you buy from them and why wouldn't a standard door be sufficient? Here we will, hopefully, answer those questions for you on your new wave sliding door system.
Innovative Design & Beauty as Standard
New Wave Sliding Door systems are at the very pinnacle of door design and beauty. The patented movement design, slim and modern looks and sustainable material used to make them gives them the edge over the competition. 
Our sliding door system is built using VEKA profiles and has a lifespan of more than 350 years compared to the standard UPVC door material which is around 35 years. Ten times longer-lasting doors are great news for the environment and maintaining the sustainability pledges we want to live and stand by.
As our sliding doors systems do not have to slide past each other they can form a single impenetrable barrier to all kinds of weather too and offers significantly more protection than a standard folding or sliding door system. With a patented eecore, it provides a more thermally efficient sliding door system too.
A New Wave Sliding Door system works on wheels that roll along the bottom track and this makes it much easier to maintain than the traditional sliding doors. Available as either aluminium sliding door systems or UPVC sliding door systems it is flexible for your budget as well without losing any quality of the product itself.
Superior To Bifolding Doors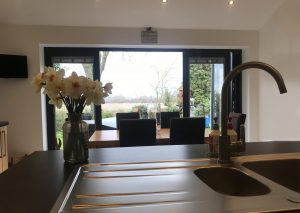 The most striking difference between an old set of bifold doors uk and a new wave sliding door system is perhaps the available colour choices. For most older more traditional doors you get the choice of grey, white or brown, tremendous, as this means that you will probably get drawn into having to paint your entire house to match the new doors. With a New Wave Sliding Door system, though, you have access to coloured sliding doors in Bristol. You have the choice of literally hundreds of different colours and shades to effortlessly match your surroundings the first time. Using the RAL chart you can simulate any colour you find on there for your new sliding doors even mimicking a timber look but without the headache associated with a timber door and all the maintenance that brings with it. New Wave Sliding Door systems are so much better for your home as well as the environment. 
So, if now you are thinking, quite rightly, that a New Wave Sliding Door is the option for you then you better hurry up and order one as they are very, very popular at the moment. An aluminium sliding door in a standard colour is around 6 weeks delivery time, a special colour adds another 2 weeks to that and if you want magnetic integral blinds fitted then as long as you order at the same time you should not experience any delays over the above. With UPVC sliding doors these delivery times are around a week or two sooner than the aluminium product mentioned above. 
With patented technology only available on a New Wave designed door it's no wonder these products are selling fast.
We hope that you have enjoyed reading about how to buy your New Wave Slide and fold Doors and why you should choose them over the older more traditional sliding door solutions offered by the rest of the competition. If you want higher quality, longer-lasting, safer sliding doors then choose New Wave Sliding Doors. Thanks for reading.